Open Letter from our Managing Director
12 Apr 2021 08:17AM by
Ashley Aylmer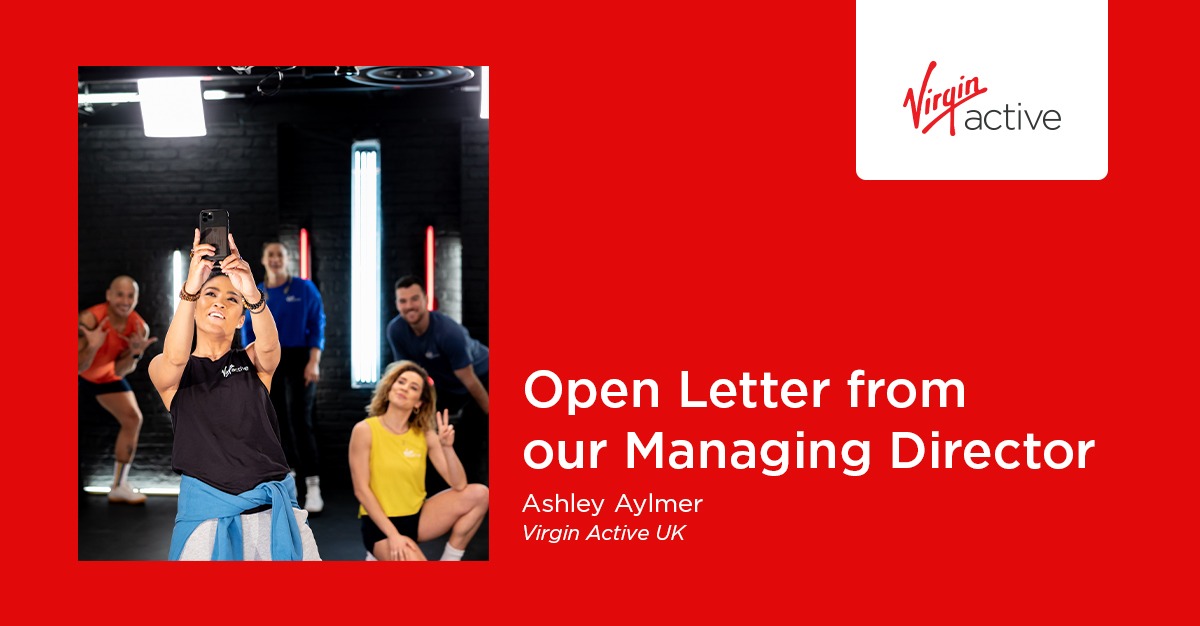 Today, we reopened the doors to all the Virgin Active clubs in the UK for the first time since December last year. I couldn't be more excited to have brought our remarkable teams back into club and to be welcoming our loyal members back through our doors.
This last year has been incredibly tough on our business, our people and our members. Although we've faced some challenges out of our control, we've taken this time to attract more of the top talent in our industry to help us redefine our fitness offering to our members, we have developed our Club+ member App and we have launched our Online+ membership. As our members' ways of working have changed, we too have as a business. We recognise that fitness habits have evolved and that keeping active through a combination of exercise experiences in clubs, at home and outdoors is, for many, the way forward.
Through technology and our exceptionally talented team at Virgin Active, we've been able to improve the quality of our group exercise and personal training offerings and expand our business online in a way you've never seen before from Virgin Active UK. We're now able to offer our expertise and guidance to people across all locations in the UK, regardless of whether they are near a club or not. We're thrilled to now be able to inspire even more people to live an active life.
Keeping active during this last lock-down has been challenging at times. For many of us low levels of motivation, dark, cold mornings and evenings and the thought of heading outside to keep active hasn't been easy, so I'm sure many of our members will be excited to get back to the clubs to experience the top notch exercise experiences they know and love from Virgin Active.
I hope our members enjoy a step towards normality this week, don't push yourselves too hard and welcome back. We've truly missed seeing you.
Finally, I want to thank each and every member of the Virgin Active team for your support over the last 12 months. Your passion for the business, expertise, resilience and teamwork is remarkable to see.
#LiveHappilyEverActive
Ashley Aylmer
UK Managing Director