"Malcolm, what's your mix?"
13 Sep 2021 08:00AM by
Malcolm Armstrong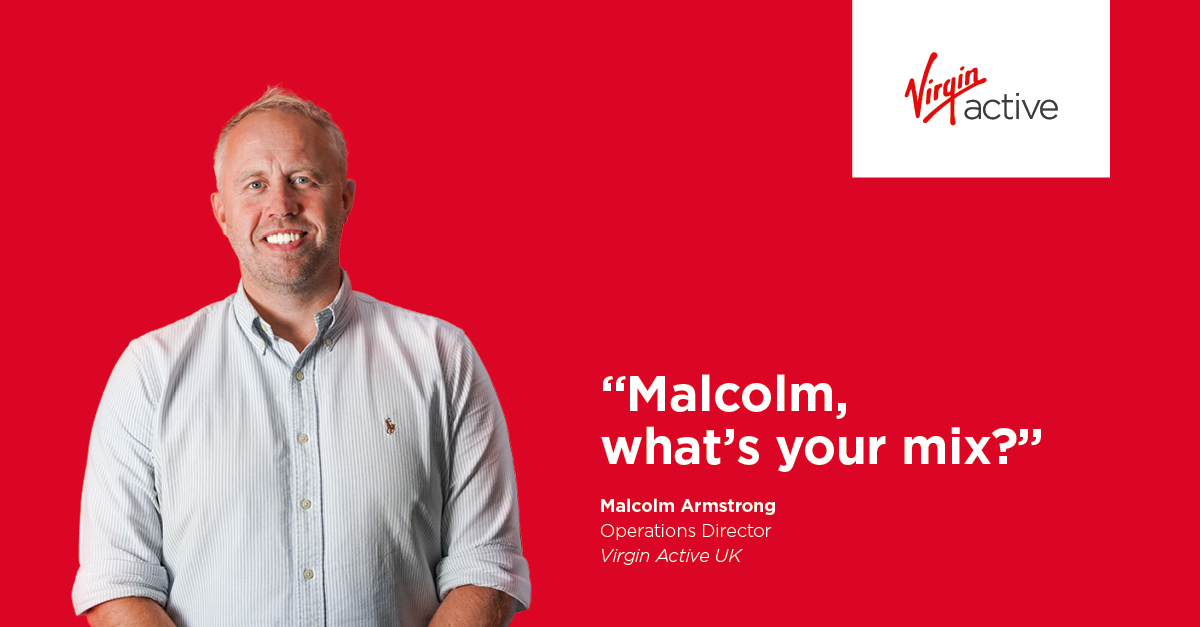 This month, we caught up with our UK Operations Director, Malcolm Armstrong to find out who he is, what aspects of fitness he likes to incorporate into his routine and to ask him to share a little bit of his vast knowledge of the Virgin Active clubs across the UK.
Who is Malcolm Armstrong? Tell us a little bit about yourself.
I work as the Operations Director here at Virgin Active but that's just one of my many roles. I'm also a husband, a dad, a son and an uncle. Family is important to me, whether that be a relative or indeed a Virgin Active colleague.
I started my journey at Virgin Active back in 2000 as a Fitness Coach at our Nottingham Club and since then have held numerous roles in our clubs and in the centre also. I am now coming up to 20 years since I started with Virgin Active. Wow, time flies.
What's your mix?
I find it really beneficial to mix up my workouts. Keeping an active routine can be quite hard when you're busy with work and Dad duties. I find it important to prioritise my fitness and mixing it up to keep me motivated. I like to jump into a mixture of the following:
• Personal Training sessions during the week in our clubs
• Grid Training on the Virgin Active App from home
• Cycle rides on the weekend with the family outdoors
Which club is your favourite?
Well, I'm not sure I could choose a favourite… but my local club is Nottingham and as I started there it holds a special place in my heart - it's inside Nottingham's old train station and is just beautiful. It's a wonderful family club and it's the people that really make it. We have a fantastic team in Nottingham, all managed by Phil Scott and Lucy Cooper.
The Club V Creche is just fantastic for parents, especially during school holidays or when you just need a peaceful cup of coffee in the lounge area. The kids really love having their swimming lessons in the pool there too.
I go on a lot of club visits to catch up with our club teams around the country and when I'm heading into our London office, it's easy for me to pop into one of the London clubs. There's usually one close to where I'm working and they've got some brilliant features. Check out the Boxing studio we have at our Walbrook club or the Reformer studio at Moorgate, they are not ones to miss.
What's been the highlight of your year?
For me, it has to be hearing such fantastic feedback from our members since we have reopened. Going into club and meeting with our members makes all the hard work over the last year and a half of in and out of lockdowns worthwhile.
Another big highlight of the year has to be rolling out our latest product updates into our clubs. We're working on some really exciting projects to keep your exercise experiences at Virgin Active fresh, so watch this space!
Throughout our estate, we have such a wonderful range of facilities. We know you'll love them as much as Malcs does! Head to our website to
explore them yourself.