Happy International Men's Day 2021
19 Nov 2021 12:32PM by
Virgin Active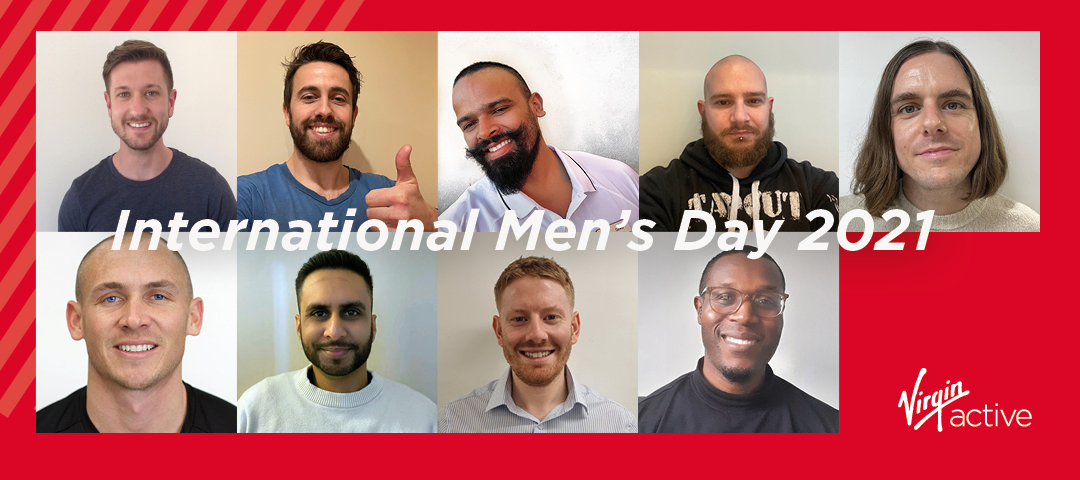 Here at Virgin Active, we're excited to be taking today to celebrate all of the incredible male members who bring such brilliant energy to our clubs, as well as the people who help make us who we are.
Today, we caught up with some of our team members to find out what International Men's Day means to them. We have nine incredible stories that we're excited to be sharing with you, so make sure you're sitting comfortably and have a cuppa at the ready.
Tom Price on 'celebrating who we are'
As our Senior Learning and Development Manager at Virgin Active, Tom knows the power of encouraging people to reach their potential. This International Men's Day, he's reflecting on his own life experiences and how International Men's Day can be a way for people to celebrate their authentic self. He says:
"As a feminist, I see International Men's Day as a way to create equality between genders. It includes a breakdown of toxic masculinity and removing socially imposed "standards" and "qualities" of what it means to be a man." ¬
Tom says that it's these barriers that put pressure on men to hide their feels and has contributed to 75% of suicides being male.
"The downside of these standards is that men feel less able to talk about mental health and the struggles they are facing. As my cousin lost his life to suicide, this fight is very close to my heart. For that reason, International Men's day is also an opportunity to show men that it's ok to be vulnerable and that they are allowed to be themselves. There is so much success and strength in this journey."
Tom says that it's Oscar Wilde who has inspired him with some of his own difficulties in the past and Wilde's imprisonment for suspicion of acts of homosexuality holds an important lesson.
"As a member of the LGBTQIAA+ community, Oscar Wilde's story taught me that who I am shouldn't hold back what I can achieve, and that we can use our struggles as a source of strength."
It's something that Tom not only practices on a personal level but it's also in his vision for the future.
"My hope is that gender inequality is a thing of the past and that we are all seen for who we are individually, for what we achieve, and celebrated for it. The more we distance men from "being masculine", the more we will see a decline is deaths by suicides."
To support his vision, Tom is proactive in checking in on his friends. He also realises how important exercise can be in quietening the mind. He says:
"Luckily there are some fantastic country walks near me, so inviting a friend over for a nice, scenic walk followed by a hot chocolate is always a great way to motivate them to workout. Who can say no to stunning views and a hot chocolate?"
David McDermott on 'uplifting others'
David McDermott is the face of the all-new Virgin Active Academy. Having been in the business for 8 years, he's stepping up to the new challenge of managing our fitness development programmes. Like Tom, David wants to help others get the best out of themselves but he says that, to do that, we have to act intuitively.
"International Men's Day is about celebrating men for their successes but also supporting them when things aren't so good. As a whole, I think we're pretty good at acknowledging achievement but not as good at picking each other up when we're down. It may not be clear how well someone is doing and what we see may just be superficial. We should strive to support and encourage each other, regardless of one's successes, and look for ways to help even when the need for it isn't obvious to us."
David says that spending time with friends is key to creating a meaningful support network. As a fitness fanatic and Level 4 Personal Trainer, David likes to spend time with his friends at the gym. He says:
"I tell my friends that I want to train with them to show them I enjoy their company and that I value their time. Whenever we meet, I also ask what they want to get out of the workout and what they enjoy. That way, I can plan a session that does both of those things for them, so they have a good time and want to come back!"
David's inspiration when it comes to being there for others comes from one of Tennis' most respectable players.
"My role model is Roger Federer. He has always spoken highly of his opponents, showing that he empowers and uplifts others. He has never let success get to his head or let defeat negatively impact his integrity or conduct towards others."
Sometimes, keeping that level of integrity can be hard and some of that might be to do with how well we feel on any given day. The key for uplifting others is looking after yourself. While we celebrate this International Men's Day, David hopes that change will be coming soon.
"My hopes and aspirations for the future are to see more men find a healthy balance of work, life, exercise and sleep. For many, it is hard to find a work-life balance and I think these factors are big contributors to a person's state of mental health."
Joshua Mayes Cooper on 'living without judgement'
Joshua is the General Manager at our Aldersgate club. Recently a father to a beautiful baby boy, Joshua hopes that the world will be more forgiving when his son grows up. He says:
"International Men's Day is about campaigning for a world in which it is ok, as a man, to be yourself in whatever form that takes. To not have to fit into what society claims men should be, and be celebrated for your individuality and vulnerability."
He goes further to say that "ultimately, International Men's Day should create a world with open dialogue and no judgement."
At times, the world can still be a critical place where disclosing personal information takes great courage. Joshua has been inspired by 21-year old Australian professional footballer who stood firm in who he was.
"Josh Cavallo has inspired me. He was the first Australian top-tier men's footballer to come out as gay. The bravery it shows to be open in that environment and face the inevitable backlash from within his sporting community and fan base in order to pave the way for others is incredible."
It's partly the response to Cavallo's story that has Joshua dreaming for "a world without toxic masculinity." He goes on to say:
"I want to live in a world where your manliness isn't defined by how rare your steak is. I want a world where men are free to express themselves and reach their full potential without feeling stifled by social conformity."
We're all in this together and every little action goes a long way. When it comes to keeping active, Joshua knows the benefits.
"For me, working out is about total wellbeing and is as much about my mental health as it is my physical. If a friend of mine is struggling with motivation, I use the fact that taking the time out of the busy day to day to catch up and welcome the endorphins is the perfect way to clear your mind."
Jamie Humphrey on 'being an ally'
As a Personal Trainer at Virgin Active Clapham, Jamie is an expert at motivating others to achieve their goals. Over the past year, he's reflected on what it means to be a man in this day and age and how men can be allies for a better world.
"I live in Clapham and during the tragic disappearance of Sarah Everard I felt incredibly frustrated with men. It weighed heavily on me. What surprised me was that instead of taking a stance of blame, the protesters reached out to men begging for help to 'make us feel safe'. After being harassed, belittled, emotionally and physically abused and killed by men, women still see men as a part of the solution. International Men's Day is an opportunity to see the best of what we are and the best we can be."
It's not only that Jamie sees himself as an ally to women but also as a support for everyone he comes across. He says:
"In 10 years, I hope to be as motivated to improve other people's health as I am now, rather than making money. When I work out with friends, I sell it as a way for us to spend time together. Busy London folk never have enough time to laugh with each other."
And when it comes to his friends, Jamie has an important person to take inspiration from.
"My role model is one of my best friends, Chris. Chris' entire personality is the opposite of toxic masculinity. That made it hard for him to be part of a male social circle growing up but he never wavered. He's now the most popular guy I know because he represents everything good a man can be: kind, considerate, empathetic and honest."
Steven Bonner on 'making changes close to home'
Steven is our Digital Product Manager, focusing on our Virgin Active App and website. He says that this International Men's Day means:
"…working every day on improving relations with the women in my family. Specifically, for me, that's my partner and our two little girls."
This is a challenge that he plans to stick to for the rest of his life and says he'll work on these relationships "day by day".
This mindset helps Steven to create a better world for those around him and its thanks, in part, to one particular role model.
"My role model is Barack Obama because of his admirable qualities. In my view, he teaches us to learn and empathise with other people as well as to put others first."
When Steven invites his friends for a workout, he takes the same approach.
"I create a shared incentive such as going out for lunch together as a reward!"
Dimas Montoya on 'generational change'
If you're a member at Virgin Active Thundersley, you're in safe hands with Dimas as your Operations Manager. Dimas is keen to use International Men's Day as "an opportunity to mentor people who feel lost in the world at the expense of social media." He thinks that things can change when it comes to generalizing men.
"International Man's Day is a chance to create awareness around the issues that men suffer on a daily basis as a result of 'being a man' and 'dealing with things on your own'. Asking for help is seen as a sign of weakness. It is also a chance to eliminate the stigma of toxic masculinity and pave a better road for generations to come."
Dimas looks up to his father as a role model. He says:
"I have never met a more hard-working man in my life than my father, Manuel. He never once faltered to provide for us and if I can become only half of the great man he is, I will very proud of myself."
Change starts with looking inward and seeing what you can do to help. Dimas says:
"I wish to be an inspiration for future generations to be better and do better. I'd like to share my knowledge and views to upskill anyone who might be willing to let me be part of their journey. I also want to be known for being myself, rather than to fit in as society wants us to be."
Looking outward, Dimas believes that a collaborative approach will help shape the world.
Dimas uses workouts as "When I'm with my friends, even something as simple as a workout is a great opportunity to discuss ideas and see different points of view in our current world."
Richard Gilbert-Cross on 'using vulnerability'
As a child, Membership Consultant Richard was inspired by his mum's hard work, empathy and strength. He uses the values that he's learned from her to help him be a role model for others. He says that International Men's Day is:
"…a wonderful time to raise awareness of positive male role models, not only in society but in our own lives too. For me, it's also a precious opportunity to encourage men to engage in open, honest conversations about health and wellbeing. It's so important to express your emotions and not be afraid to be show vulnerability. Get talking and get crying, there is nothing to feel embarrassed about."
Vulnerability is an important aspect of reversing stereotypes around what it means to be a man. It doesn't have to be a large show of emotion; it can simply be doing something that challenges you. Richard says that workouts are a great way to demonstrate this.
"When I'm working out with my friends, a cycle class would be my choice, with a walk and catch-up beforehand. Hopefully, showing my vulnerability in a tough class relaxes them and encourages them to be more open in turn."
This is important because the way we act in the world can affect others.
"Male suicide rates are really alarming and I'd love a society where men not only feel comfortable with asking for help but are guaranteed that help will be available for them."
Dipak Mistry on 'positively affecting those around you'
Dipak works in our Marketing department as Head of Performance Marketing. He sees International Men's Day as a way to connect with others and continually show up for them. He says that International Men's Day is about
"…affecting the ones around you positively by being a good person. This includes humility, having integrity, being respectful and working hard to achieve your goals in life."
Whatever you do in your life, you have an opportunity to positively affect those around you. In his workouts, Dipak would describe himself as a "persistent and consistent workout partner." He says that it's important to "provide that extra motivation to keep friends in a routine. Setting goals together can be more fun and add a competitive edge to workouts."
Dipak takes his inspiration on uplifting others from his role model Barack Obama.
"My favourite quote from Barack Obama is: 'If you are confident about your strength, you don't need to show me by putting somebody else down. Show me by lifting somebody else up.'"
Gokul Yesodharan on 'finding time for yourself'
Gokul is our Head of Operations at Virgin Active Fulham and is using International Men's Day as an opportunity to put negative stereotypes behind him. He guides his life with a quote from scientist Albert Einstein:
"Try not to become a man of success, but try to become a man of value."
Gokul says:
"This quote rings true to me at a time when toxic masculinity is rife and it is almost for men to reach a certain benchmark to be a 'successful' man. This puts an undue strain to a lot of men and this pressure adds to the high suicide rate among men - which is significantly higher than the rate for women. I feel International Men's Day is a chance to let men know that they can just be."
For Gokul, this means working on his hopes and aspirations:
"I am quite focused at the moment on my career and I'm currently investing in myself and learning new things. I'm challenging myself by preparing for a competitive exam to see if there is scope to further my education while working."
But focusing on his career is time-consuming and Gokul knows it's important to find time where he can de-stress.
"I quite often workout with my friends. Like me, most of my friends are quite busy so we find this a way to both catch up and see how each other is doing at the same time."