Even 10 minutes of exercise counts!
7 Sep 2022 09:20AM by
Holly Phillips - Marketing Executive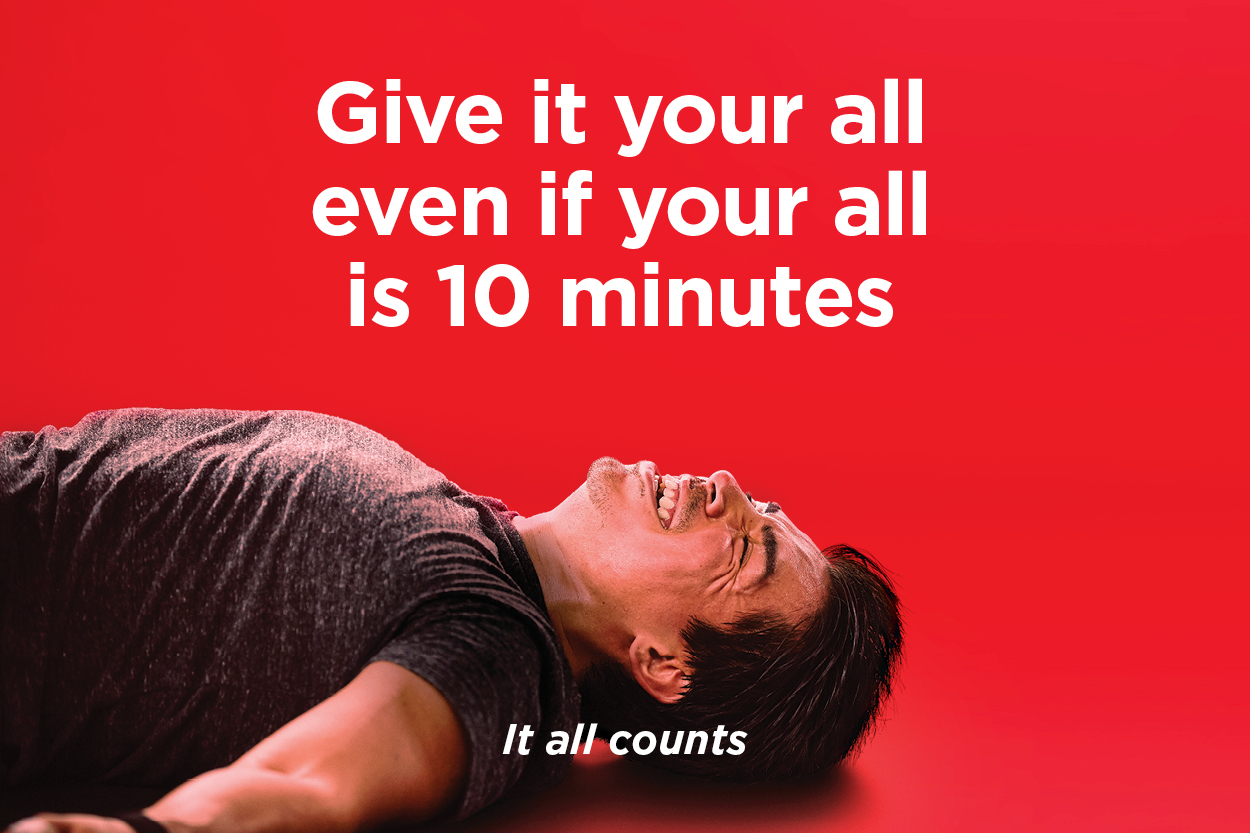 Whether you've only got a little time to spare (we know how it can be) or you're not feeling up to hitting the gym for an hour, you might be surprised to know that just 10 minutes of exercise can have lots of benefits for your body and mind! Here are just 5 of them…

You'll boost your mood
We all know that doing exercise creates endorphins - those 'feel-good' chemicals in your brain. Even if you do a few laps in the pool, do an intense core workout or give it your all on the punch bag for 10 minutes, you'll leave your session feeling happier throughout the day. And who doesn't want that?
You'll gain a sense of achievement
You never feel bad after finishing a workout. Moving your body, even just for a short while, is a great way to feel good about yourself. What's more, if you're working towards a goal, you can be proud of your dedication for showing up and you'll be more likely to keep it up in the long term.
And if you have time, why not reward yourself by kicking back in one of our Virgin Active spas – we know we would!
You'll feel motivated to move
If you're feeling unmotivated on a particular day, a short workout is perfect for you. It'll be over before you know it! Tune into your favourite workout playlist, grab those dumbbells and get moving.
Want some help? Why not head over to the Virgin Active App for a variety of short workouts!
It's super flexible
It's easier to make excuses or find reasons why you don't have time to do a longer workout. But who doesn't have 10 minutes? Pencilling in a 10-minute yoga practice before you start your day will leave you feeling more energised, calmer and will improve your posture.
If you're not a morning person, doing a short Pilates practice before bed can help you sleep better, promote relaxation and bring some mindfulness. Leaving you feeling more centered – mind, body and s(ooo)ul.
Or, find a boost in the middle of your day with a high-intensity Boxing or Strength and Conditioning class.
It will help you stay focused
Got a deadline looming at work or school? Doing a short workout is a fantastic way to help you stay focused.
Why not try a 10-minute HIIT (High-Intensity Interval Training) session? Complete 30-second intervals of an exercise, then have a 10-second rest – and repeat. You'll build up a sweat, have more energy and feel ready to take on the day – whatever lies ahead.
What's more, you don't need much equipment, so no excuses!
What movement can you do in 10 minutes?
We spoke to Tom McClelland, Head of Athletic Training at Virgin Active, to discover how he gets his body moving when he only has 10 minutes to train.
"For me, some form of movement every day is non-negotiable. Even if it is just a walk, some mobility exercises or a quick sweat. Although 10 minutes is not an ideal amount of time to spend in the gym, sometimes I know that 10 minutes of doing something will feel better than skipping movement for the day.
For this, you need to be efficient. Change into your gym gear before you leave the house or office and use travelling to the gym as your warm-up. Get a light jog or fast walk going. When you get to the gym, choose 3-4 exercises and perform an AMRAP (As Many Reps/Rounds As Possible) with those exercises. For example, try 10 x push-ups, 20 x squats, 10 x sit-ups and 20 x alternating reverse lunges. You can do these exercises with your body weight or add some weights for more of a challenge.
The benefit of this workout format is that you can go at a pace that suits you, use it as a benchmark to test how many rounds you can do and you will feel accomplished at the end as you completed what you came in for!"
Whatever gets your body moving, it all counts!
What will you do?