What is Move Club?
3 Nov 2023 14:23PM by
Nick Parkes - Strength and Conditioning Activist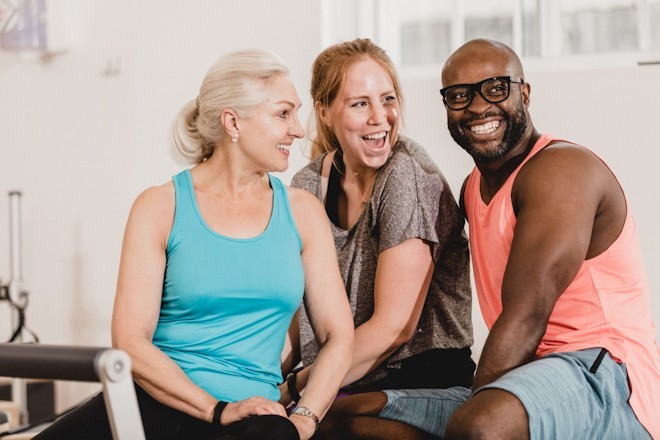 Looking for a way to get into low-intensity movement while making new friends? Move Club is your answer. Here's creator Nick Parkes to tell you more…
Introducing Move Club...
Move Club is a 45 minute low-intensity workout designed to develop flexibility, strength and aerobic health. In this class, you'll be guided through moves that help you loosen up certain areas of your body, whether you are naturally a little tight or you're a little stiff after injury. It's perfect for our members in later stages of life and those needing a little more support in their workout.

Move Club mainly uses bodyweight exercises to help you elevate your heart rate and work up a sweat. But our instructors will also guide you with modifications using light dumbbells and resistance bands to help intensify your workout.
What do our members love about Move Club?
" ***** Great classes especially the Move Club with Kate." ~ Member at Virgin Active Repton Park

Move Club is great for so many of our members including those who want to build up their range of motion. If you're looking for a way to let off some steam without putting too much strain on your joints and muscles, which might not be as strong as others, Move Club will help you.

It's a great way to develop a healthy lifestyle that also gives you a chance to meet new people. After all, wellness is more than just working out. And you deserve a chance to celebrate your hard work too!
Where can I find Move Club?
As of 2023, we've got 4 clubs around the UK offering Move Club. Find your nearest and try out a class at:

Repton Park
Sheffield
Solihull
Wimbledon

And soon…

Swiss Cottage
Bromley
Northampton Riverside Park
Northampton Collingtree Park
Thundersley
You might try adding in a new workout or series of exercises every week that target different muscles or get your body working in a different way (like changing your heart rate).

But, whether or not you change your training plan depends on your fitness goals. If you're looking to see results, then you might want to change your training plan to avoid your progress plateauing. If you're using exercise as an escape for your mind, to get those endorphins flowing and make yourself feel good, then perhaps what you're doing is working for you.
The choice is yours but, as ever, we're here to support you