Wattbike
Science your cycling
What is it?
An indoor bike with a difference. Loved by Olympic champions and endorsed by British Cycling, it's designed to feel just like your road bike (you can even bring your own saddle). It takes 100 measurements with each revolution of the pedals and gives you data on 40 different aspects of your cycling.
What's it for?
Burning calories, building stamina, and getting a brilliant cardio workout, whatever the weather. If you want to get serious about cycling, you can use the bike's integrated technology to improve your technique, push yourself harder, and track your progress.
Who's it for?
Cycling devotees who want to get better, quicker. Fitness fans looking to their workouts. And anyone else keen to get fitter and stronger.
What do I do with it?
Anything you'd do on a road bike. And much more. Measure everything from your average speed and the power of your pedaling, to your heart rate and recovery times. Improve your technique, track your progress, and your rides once you're back home. Compete with other members on our big screen, see how you'd fare against the world's best cyclists, or test yourself with these exercises:

Speed Intervals
Cycle as fast as you can for 20 seconds. Then recover by lowering the resistance or speed for 60 seconds. Repeat for 15 to 20 minutes.
Strength Intervals
Cycle for 200m on a high resistance. Then switch to a low resistance for 60 seconds to recover. Repeat for 15 to 20 minutes.
Endurance Ride
Cycle at the same speed, keeping the same power output, for 20 to 30 minutes.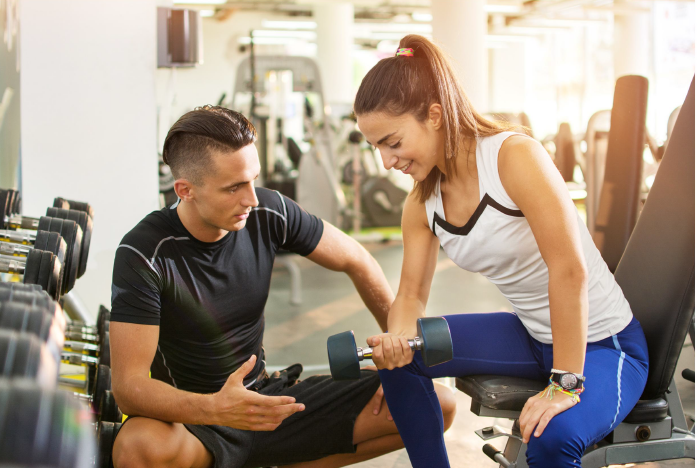 Whether you want to look good for that big day, get in shape after a baby or do your bit for a good cause, your goals - and our expert Personal Trainers will help you smash them.
Personal Training
Back & neck pain
Upper & lower limb problems
Sports injuries
Postural problems
Rehabilitation pre & post surgery
Sprains & strains
Tennis/ golfer's elbow
How It Works
We always start with a health and fitness assessment; maybe you want to look good for a holiday, lose baby weight or get active again. Perhaps you're recovering from an injury. Our experts will tailor a training plan unique to you.
How we get you there?
Scheduling exercises keeps you on track. We'll show you the latest fitness innovations and how smart use of the gym makes most of your workouts. And we inject fun into fitness, so you'll enjoy working out even more.
Body Transformation
Losing weight can be a frustrating process, but you don't have to do it alone. Our team of experts will show you the fastest, safest ways to get rid of that stubborn holiday stone while simultaneously helping you get stronger.
BODY RESTORATION
Barbican, Strand and Kensington are all available to members and non-members.