What is Reformer Pilates?
8 Jul 2019 16:29PM by
User Not Found
"Fix your knee in space and push backwards with your leg – it should feel like someone has shot you in the bum". It's an odd thing to hear midway through a Pilates class, especially when you're doing it right. But that's exactly the feeling as heat builds in our flimsy glutes. "Only 12 more reps to go."
The move, deceptively named 'scooter', is a cross between a single leg deadlift and a lunge: right foot on the ground, left foot pulsating on the Reformer's horizontally sliding carriage. You could do something similar on the mat, and people do, but the boiled down movements are Pilates purified.
The decades-old practice of dead-eye alignment and careful movement has long held its position as among the best in pared-back exercise. But this guise atop the Reformer promises to add to the myriad benefits by dialling up the precision, increasing the challenge and then holding you there with springs.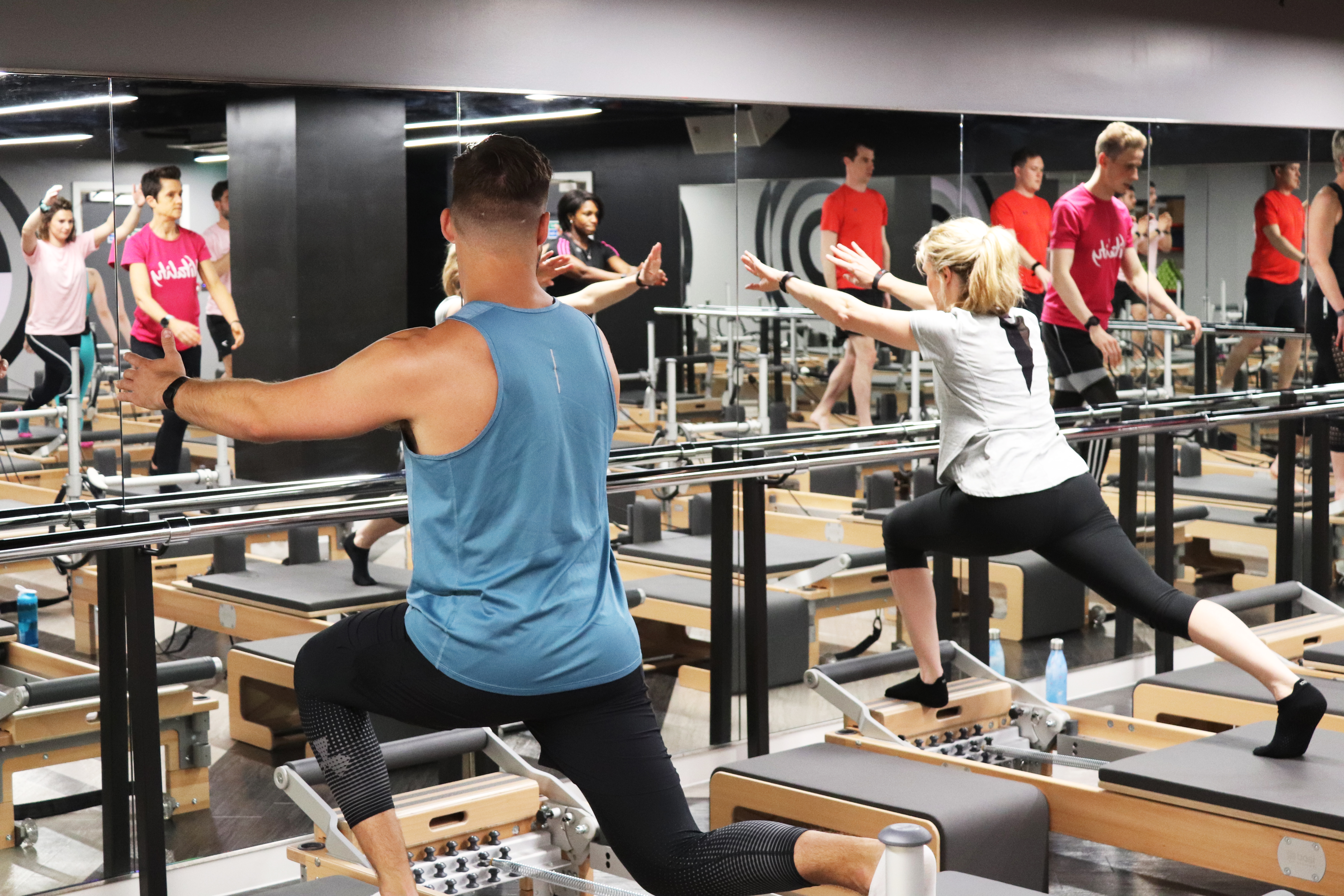 SPRING LOADED You work against your own body as well as the bed's tension to see results.
The classes are structured so that your whole body gets a workout, maintaining the fluid transitions key to traditional mat work. The only time that pace slows is to alter the tension on the carriage but we welcomed the brief respite. Either way your body is in constant motion – whether that's dynamic movements against the springs or stretching your body to shake off the sets.
If you're already hooked on standard mat work, mixing up your routine with the Reformer opens new possibilities for building strength and perfecting your positioning. And for those who have never tried Pilates, this gives you a welcome in. "People love the Reformer," says Katie Hanline, a Pilates teacher at Virgin Active Barbican, "especially for guys, it allows them to up the weights and get a bit more resistance."
Kate believes that the beauty of the Reformer is to get your body in specialised positions. "Working against that resistance, and with that functionality allows us to do quite a few different exercises that are taken from the mat, and perfected on the machine."
You will soon notice the increased control, support and alignment allows you to perfect and feel the benefits of an exercise relatively quickly. And although the reformer can help your strength rocket, it can cradle you as much as it gives you something to fight against, making it an excellent tool to complement recovery.
"It's almost like a rehabilitative way of looking at it," says Katie, "so working with that alignment is going to make sure that you won't roll that ankle again, or twist your knee and prevent you from injuring yourself again."
Through the holy grail of good posture (a healthy spine is a healthy body) Pilates strengthens joints by finding the best position for them, which in turn strengthens the muscles that keep them there – it's a lofty benefit that we hope to be true outside the class too.
"Pilates just coincides so well with every other activity because it focuses on alignment," says Katie "and obviously because it's aesthetically concerned with balance and symmetry it helps to decrease the likelihood of injury."

We shared our class with a number of hardened Pilartists and never felt out of our depth. Kate explains that the springs allow people to do the exact same exercise "making it really hard for someone who is more advanced and a bit more accommodating for someone that's not."
Joseph Pilates, the movement's founder, said that in 10 classes you would feel the difference, see the difference in 20 and have a completely new body in 30. Even with thighs still throbbing, we're taking him up on the offer and coming back next week.

---