Level 2 Award for Fire Marshall Training
Put your organisational skills to good use and learn to build and keep a safer working environment with our fully accredited STA Level 2 Award for Fire Marshall.
Why qualify as a fire marshall?
Have you been asked to take on responsibility for fire safety in the workplace? Step in and help prevent the spread of fire related emergencies at work with our one-day course in Mansion House, London.
With Fire Marshall's in high demand, this is a fantastic opportunity to boost your CV with a nationally recognised Safety Training Awards (STA) qualification. Safety Training Awards is the awarding organisation of The Swimming Teachers' Association, an independent registered charity and national governing body for swimming and lifesaving. This means you will have an accreditation that will provide you with the edge when applying for jobs.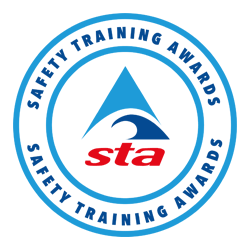 Why take a fire marshall course with the Virgin Active academy?
We're all about progression. That's why we've rallied our team of supportive, qualified tutors to help you every step of the way. Whether you're here to upskill because you're a keen learner (we love that), or you want to step in to support your organisation with expert fire safety knowledge as a designated fire warden/marshall, we're here to help.
Once qualified, you'll have mastered the following:
An understanding of the hazards and risks associated with fire in the workplace
An understanding of the principles and practice of fire safety management at work
The ability to identify and control a fire risk in the workplace
Knowing what is expected from the role of the nominated fire warden.
How will the course be assessed?
This qualification is tutor assessed through the completion of a multiple-choice theory assessment paper, qualifying you as a Fire Marshall for a duration of 3 years. Upon successful completion, you will receive a digital certificate from the Safety Training Awards within 4-weeks, subject to the quality assurance process.
Fire Marshall
Before you join, make sure...
You're at least 16 years of age
It is advisable that learners have a minimum level 1 in literacy or numeracy
Level up with the Virgin Active Academy
Help make a difference in your organisation. Contact our friendly team today about enrolling.
Our Fire Marshall course is open to anyone above the age of 16.
The course takes place for one day between the hours of 08:30 - 17:30, from the dates below at the Virgin Active academy in Mansion House, London.
Cost: £175
Upcoming dates in 2023:
Thursday 28th September
Thursday 26th October
Thursday 23rd November
Thursday 28th December